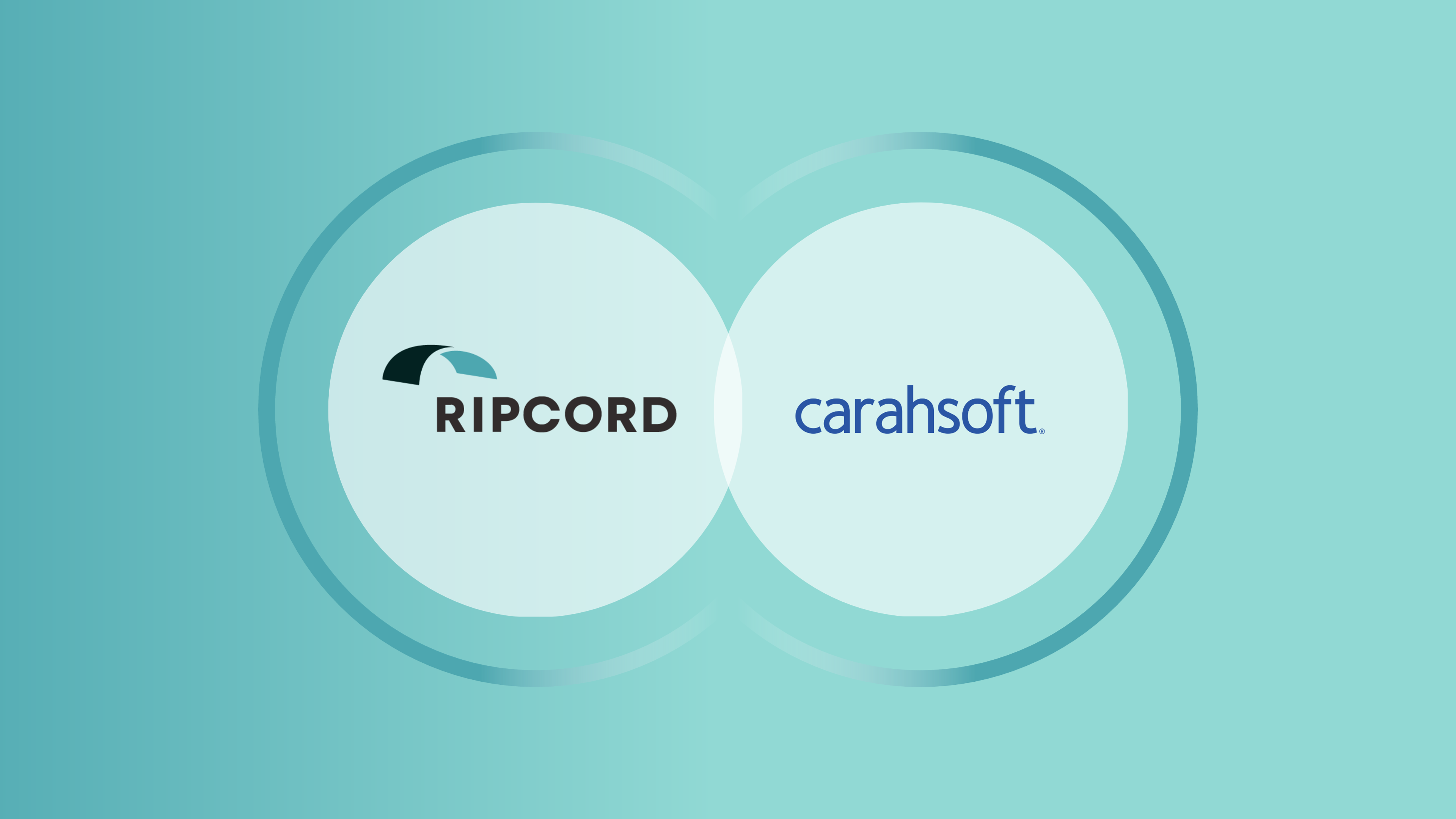 Ripcord and Carahsoft Partner to Make Intelligent Document Processing Solutions Available to Government Agencies
Partnership enables procurement of Document Intelligence as a Service™ Software Public Sector
HAYWARD, Calif., and RESTON, Va. — October 19, 2023 — Ripcord, the company revolutionizing the Intelligent Document Processing market, and Carahsoft Technology Corp., The Trusted Government IT Solutions Provider®, have announced their partnership today. Under their agreement, Carahsoft will serve as Ripcord's Master Government Aggregator®, making its products available to the Public Sector through Carahsoft's reseller partners and NASA Solutions for Enterprise-Wide Procurement (SEWP) V, Information Technology Enterprise Solutions – Software 2 (ITES-SW2), National Association of State Procurement Officials (NASPO) ValuePoint, National Cooperative Purchasing Alliance (NCPA) and OMNIA Partners contracts.

"Ripcord's decision to partner with Carahsoft and its resellers represents a pivotal step towards optimizing our reach and impact in the Public Sector market," said Lynn Barousse, VP, Public Sector Sales at Ripcord. "Carahsoft's unparalleled expertise in Government technology procurement, coupled with their extensive network and deep industry relationships, align with Ripcord's mission to revolutionize document intelligence and data management. We look forward to working with Carahsoft to drive efficiency, modernization, and transparency across the Public Sector with our digitization, document intelligence, and content management services."
Ripcord's Document Intelligence as a Service™ (DIaaS) is designed to help the Public Sector modernize their operations, address rising service demands, and adhere to regulations. Its solutions leverage advanced artificial intelligence (AI) and robotics technologies to digitize, classify, extract, and enrich data from physical and digital documents accurately and at scale. Agencies can store their digital assets in Ripcord's cloud-based, generative AI-powered content platform, Canopy, and immediately gain access to reliably accurate documents and data.
"Carahsoft is excited to partner with Ripcord and our reseller partners to help our Public Sector customers accelerate digital transformation while also saving time, money, and manpower," said Matt Rattigan, Vice President of New Vendor Relationships at Carahsoft. "At a time of rapid change in the IT sector, we are excited for the opportunity to provide Government agencies with access to leading solutions designed to enable agencies to efficiently modernize operations, meet increasing service demands, and comply with evolving security requirements. By collaborating with Ripcord, we can introduce these offerings to a diverse range of Government entities seeking transformative solutions."
Ripcord has also achieved Amazon Web Services (AWS) Independent Software Vendor (ISV) status through Carahsoft's Accelerated Partner Development Program that fast-tracks partners through the AWS Partner Program, recognizing the technical expertise and proven customer success in delivering AWS solutions.
Ripcord's solutions are available through Carahsoft's SEWP V contracts NNG15SC03B and NNG15SC27B, ITES-SW2 Contract W52P1J-20-D-0042, NASPO ValuePoint Master Agreement #AR2472, NCPA Contract NCPA01-86 and OMNIA Partners Contract #R191902. For more information, contact the Ripcord team at Carahsoft at Ripcord@carahsoft.com.


About Ripcord
Ripcord is disrupting the $62 billion document intelligence space with its cutting-edge Document Intelligence as a Service™ (DIaaS) platform. Using advanced robotics, machine learning, and generative AI in a cloud-based platform, Ripcord digitizes, ingests, classifies, and intelligently extracts and summarizes data from paper and digital records, making them accessible and actionable to enterprise users. Founded in 2015 out of NASA research, Ripcord is backed by the world's leading investors including Kleiner Perkins, Google Ventures, Icon Ventures, Lux Capital, and Apple co-founder Steve Wozniak. For more information, visit www.ripcord.com or follow the company on LinkedIn and Twitter.
Media Contact
Molly Vernarecci
press@ripcord.com


About Carahsoft
Carahsoft Technology Corp. is The Trusted Government IT Solutions Provider®, supporting Public Sector organizations across Federal, State and Local Government agencies and Education and Healthcare markets. As the Master Government Aggregator® for our vendor partners, we deliver solutions for Law Enforcement Technology, Artificial Intelligence and Machine Learning, Customer Experience, Cybersecurity, MultiCloud, DevSecOps, Big Data, Open Source and more. Working with resellers, systems integrators and consultants, our sales and marketing teams provide industry leading IT products, services and training through hundreds of contract vehicles. Visit us at www.carahsoft.com.
Media Contact
Mary Lange
(703) 230-7434
PR@carahsoft.com