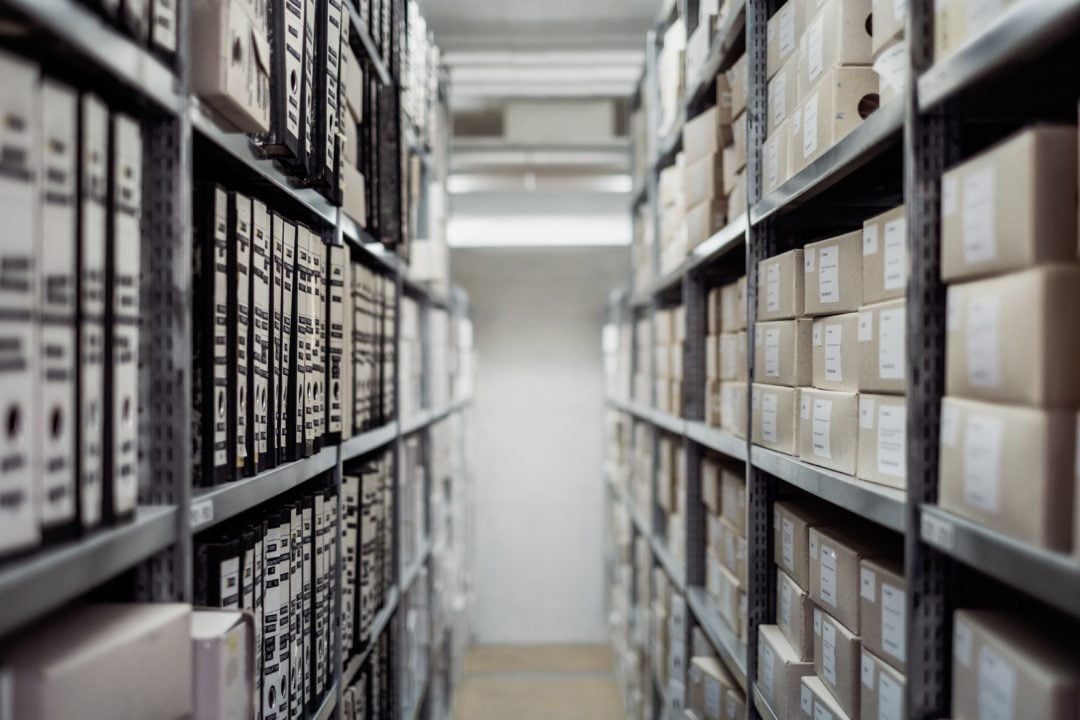 Determine the Level of Data Heat in Business Documents
Chances are you've walked by that stack of boxes in the back room of your business so many times that you've stopped noticing it even exists.
Other times those boxes of documents fall into your line of sight and your mind immediately starts concocting a plan to get rid of them all, perhaps by dousing them with gasoline and lighting a match.
Hopefully something stopped your train of thought right there, because while the idea of clearing up space in your office can be tantalizing . . . it's likely that empty space will soon be taken up by even more boxes, and the cycle will just be repeated. In addition, you might not be considering all the value that could live in those piles of documents.
So let's take a minute to think about the "data heat" emanating off of those boxes – how much current and potential revenue could be accrued from the information inside each of them? Try not to be intimidated by the fact that each box will have a different value, and that the difference amongst them all can be staggering. Instead, start thinking about the best way to determine the actual value of those documents, especially when you know many of them are at least 10 years old, if not much older.
Ditch the Old-School Scanning Methods
Let's say you have 1000 boxes, and you know at least half of them are from pre-Internet times. It might feel safe to assume any box from the '80s will be worthless, but until the records inside have been properly analyzed, it's best to keep personal estimates at bay. Industry insights can be timeless, and while they may be buried deep in a pile of paper, it's wise to uncover what's in there because it can provide answers to today's work problems. As well as potential revenue!
But who will be responsible for the massive undertaking at hand? There will almost undoubtedly be staples to remove, and you'll need to anticipate a good-sized chunk of time to sift through the information and find what's relevant. It may sound like a menial task that could be handed off to an intern or office assistant, but are those the right people to choose which documents are important enough to keep, and which aren't?
What about using a mainstream handling and scanning solution like Office Depot or FedEx? Do you trust your sensitive information to be handled by complete strangers? And let's face it – you're likely going to leave that store disappointed with the quality of the scanned product, not to mention frustrated you've got more work to do, considering you now have just a PDF to work with. Where will that PDF end up in your company's business flow? Do you have a complex computer system to drop the PDF into, and be able to access at any given moment?
All of this sounds like a negative, but the plus is that you've now got a much more defined and informed pain point. Time to consider a much better solution for both your archival and document access needs, and end that pain.
Gain Advantage Through Ripcord
Ripcord's robotic digitization process is an excellent answer to all your document storage problems. Perhaps such a method seems costly for your business, but this is where it's good to analyze the data heat of your company's documents, once again.
Imagine that your company needs to hire 5,000 temporary workers for a particular time of year. When the contracts expire for those employees there's bound to be a large percentage of them that file a claim for unemployment, even though they were temporary workers from the start.
This is when all of the HR paperwork associated with each hire comes back into play, and the thought of filtering through 5,000 pages of application papers, to determine the details of each employee's contract, sounds like something no one at the office wants to take care of.
Avoiding the task, and pushing it way back on the calendar, would seem so easy, but time is definitely an issue at hand in such a scenario. These documents need to be examined and turned around quickly, possibly in a matter of business hours versus business days.
And an audit is out of the question – when HR reminds you such an inspection could cost the company $100,000, the cost of digitizing those records through Ripcord sounds much more reasonable. In fact it almost feels like an insurance policy – you need to have the data digitized, and searchable, because you can't afford to go through an audit of these critical documents and fail.
There's also the importance of "future proofing" your documents with Ripcord's advanced, high resolution technologies, and scanning them at the best quality possible. When records are scanned at a low resolution it leaves you unable to extract the best insights from them in the future. A good way to consider that is through the idea of HD TV – films and shows recorded 15 years ago don't display well on today's HD televisions. Your business documents should be treated with the utmost care so that employees down the road won't have any problem reviewing and utilizing them.
Use Data Heat to Drive Your Next Move
In the end, data heat is a terrific concept to help your business determine if – and when – you should hire Ripcord for your records management needs.
Maybe you're in a time crunch and have to take fast action on documents that are buried somewhere amongst the 1000 boxes you have in your storage room. Or maybe you have multiple boxes of documents that you know contain valuable information, but are unsure of how to dissect and extract all the data.
Sure, you could hire a new employee to handle the problem, but it's important to do the math on which would provide the better return on investment (ROI) – the new employee, or the hiring of Ripcord to do the job? If a new full-time worker was paid $20/hour they'd be earning around $38,000/year, and it's unlikely they'd be needed at all times.
And that's much more expensive than working with Ripcord, where you can get your digitization and record management needs handled for a much lower price. So consider giving Ripcord a call and learn how the process of robotic digitization can provide you extremely beneficial insights on those piles of paper taking up too much real estate in your back office.