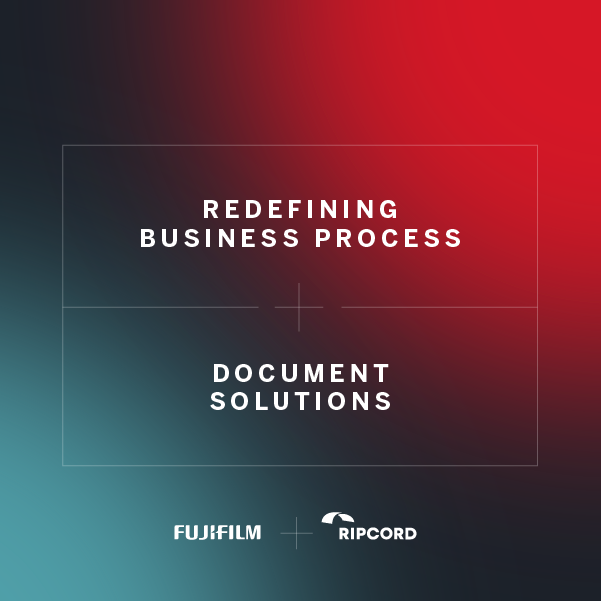 New Joint Venture FUJIFILM RIPCORD to Redefine $75 Billion Business Process Services Market
We at Ripcord are honored to announce a joint venture partnership with Fuji Xerox Co., Ltd., the most trusted brand in digital solutions. The new company – FUJIFILM RIPCORD – is designed to redefine the $75 billion business process services (BPS) market in Japan and Asia Pacific and will help businesses accelerate digital transformation, better leverage organizational data, and adjust to quickly changing customer needs and expectations.
FUJIFILM RIPCORD is the new beginning of a series of disruptive integrated digital transformation solutions featuring Ripcord's leading robotic workcell and Canopy software offerings. This joint venture will bring together Fuji Xerox's leading solutions in business process services and Ripcord's integrated SaaS full-stack offering to address digitally native and paper-centric processes. Never before has such technology been combined to remove the headaches of systems integration, which blocks the path to true robotic process automation.
For customers, this means they can expect an enhanced customer experience, cost savings and improved innovations around smart business processes – with stronger ROI benefits and a greater ability to understand data that was previously trapped on paper and digital documents. Additionally, location free access to physical records has become imperative to customers' daily business processes due to the COVID-19 pandemic. FujiFilm Ripcord will provide customers increased agility and opportunity to digitize key business processes with no reliance on physical presence.
Our partnership with Fuji Xerox is the latest milestone amid tremendous business momentum at Ripcord. The company has continued strong growth over the past year, with notable milestones including:
Major customer wins:

Ripcord recently signed deals with MUFG Bank, Japan's largest bank, to digitize and modernize the organization and legacy business processes, and Coca-Cola Bottlers' Service, which is now able to digitize tens of millions proof of delivery documents annually while improving order to cash process and reducing unnecessary write-offs. As part of the deal with MUFG Bank, Ripcord will scan 300 million pages of files – a laborious task that would have taken MUFG Bank's team of four workers 510 years to complete, and which Ripcord's robotics technologies will complete in about five years.


Series B2 Funding: Early this year in February, Ripcord received an additional $45 million in Series B2 funding from CDK Global, a leading retail automotive technology company, and existing investors, to drive digital transformation across the automotive industry and modernize the car buying process. The financing has driven global expansion of Ripcord's offering and redefined vertical markets across the world.



Industry recognition:

Ripcord was recognized by the AI Breakthrough Awards as the Best Robotics Process Automation Solution for our vision-guided robots and AI-based approach to digitization. Ripcord was selected as a leading organization alongside successful, high-growth companies and major established brands such as Dynatrace, Blue Prism, Bright Machines, IBM, Automation Anywhere and Capital One.


As we look to the rest of 2020 and beyond, we're excited to continue driving forward Ripcord's growth and business value across industries and geographies. We've already experienced massive growth numbers – and expect Ripcord's upward trajectory to continue accelerating in parallel with the continued emphasis on digital transformation.
To learn more about how Ripcord can benefit your business, contact us and let us support your company on its digital transformation journey.